Sunburned after my day on the beach in Cherating, I decided a retreat to the forest was in order. Taman Negara, a national park, is one of the oldest rainforests in the world and one of Malaysia's biggest attractions. So, after a taxi ride from Cherating to Kuantan, a bus ride to from Kuantan to Temerloh, a bus ride from Temerloh to Jerantut, a speedy cab ride from town to the dock, an angry cab ride back to town because there was no accommodation available near the dock, a few phone calls to book a tour, and an overnight at a hotel in Jerantut, I was finally en route.
I booked a tour through the hotel I stayed at in Jerantut, and the man who booked the tour for me, Addy, also turned out to be my guide. He and his friend drove me to the park in their card, speeding the whole way. Despite the sharp corners, wild passes, near-miss with a bus, and interesting maneuver where the driver lit a cigarette as he steered with his knees, we made it to the boat in one piece. We met up with the others members of our group: a French family with two children, aged 5 and 8, and an older German man who was also travelling alone.
The tour started with a boat ride down the river, and the view was fantastic. I, unfortunately, didn't learn my lesson in Cherating and added some more colour to my legs. The forest, at the start of our hike, was similar to those in Canada, with ferns, big trunks, and open skies. Four kilometres in, we stopped at a small cave for a meal break. My backpack, although emptied (I left most of my clothes in storage at the hotel), was heavy due to the three litres of water I was carrying, and my shoulders craved a rest. After the break, we continued on our way to the big cave, where we would spend the night.
The landscaped quickly changed; it began to look more like a rainforest. The undergrowth became thicker, the canopy above closed up, and the sun disappeared. I saw "Tarzan vines" that, for me, identify a true rainforest. The hike was difficult. There were lots of downed trees on the path that we had to pass over and under, and our footwork was further complicated by the mud.
The day was supposed to be long but easy, but having two young children in our group made the day even longer, and I certainly didn't find it easy. "This area has many tigers," Addy said when the sun started going down. "We must arrive before dark or..." He didn't finish his sentence. He didn't need to.
We got out our flashlights and soon they became a necessity. It wasn't until 7.30 that we finally arrived the big cave—and, boy, was it big! There were several groups already there, but there was plenty of room for all of us. Addy made dinner for us while we relaxed on the mats and talked. After dinner, we went outside to a nearby stream to brush our teeth and "shower"—the whole time I was checking for animals with my flashlight. Soon, all the flashlights were turned off and we all settled in for a night of camping in a cave.
I woke up to sunlight streaming through the cave opening. It was one of those scenes that make you think, Wow. This is why I travel. With the sunlight, I got a good look at the cave. It was one big "room" that was about 40 metres tall and could handle about 300 people at a time. There were two openings: the bigger, higher one (near where we slept), which was almost at the ceiling, and a smaller one to the left that served as the main "door." A big rock sat in the middle and divided the room; people used to rock for privacy when it came to changing clothes and using the "toilet" facilities. Someone, somehow, managed to put a Malay flag high up on the cave wall. It smelled of dampness, fire ashes, and moss inside the cave. I loved every minute of it.
During breakfast—bread with Malay jam: coconut with egg—Addy told me he couldn't sleep because he thought he heard animals. "I thought I heard animals during the night, too," I said. "It sounded like bats to me."
"Not bats," Addy said. "I think tigers."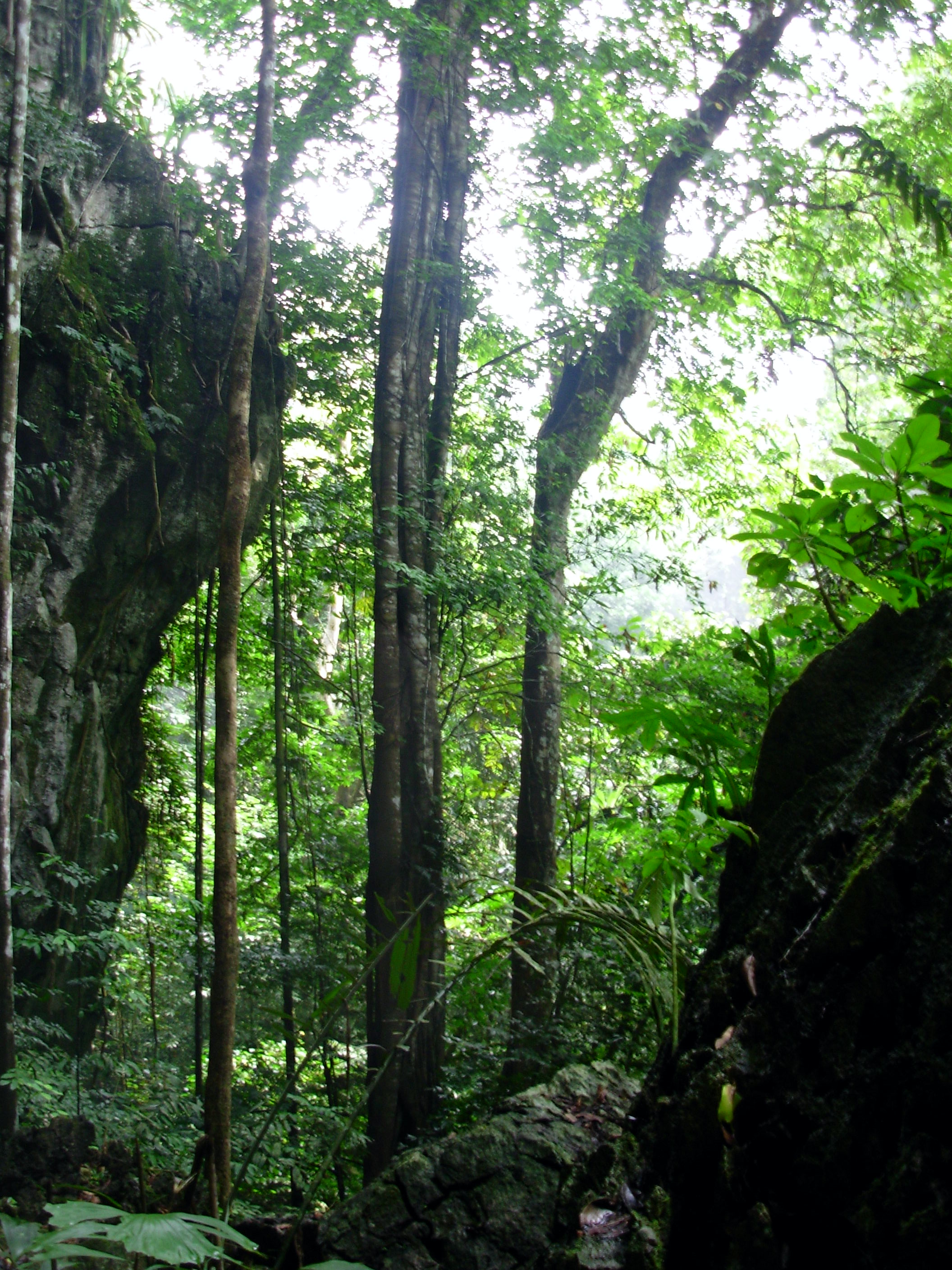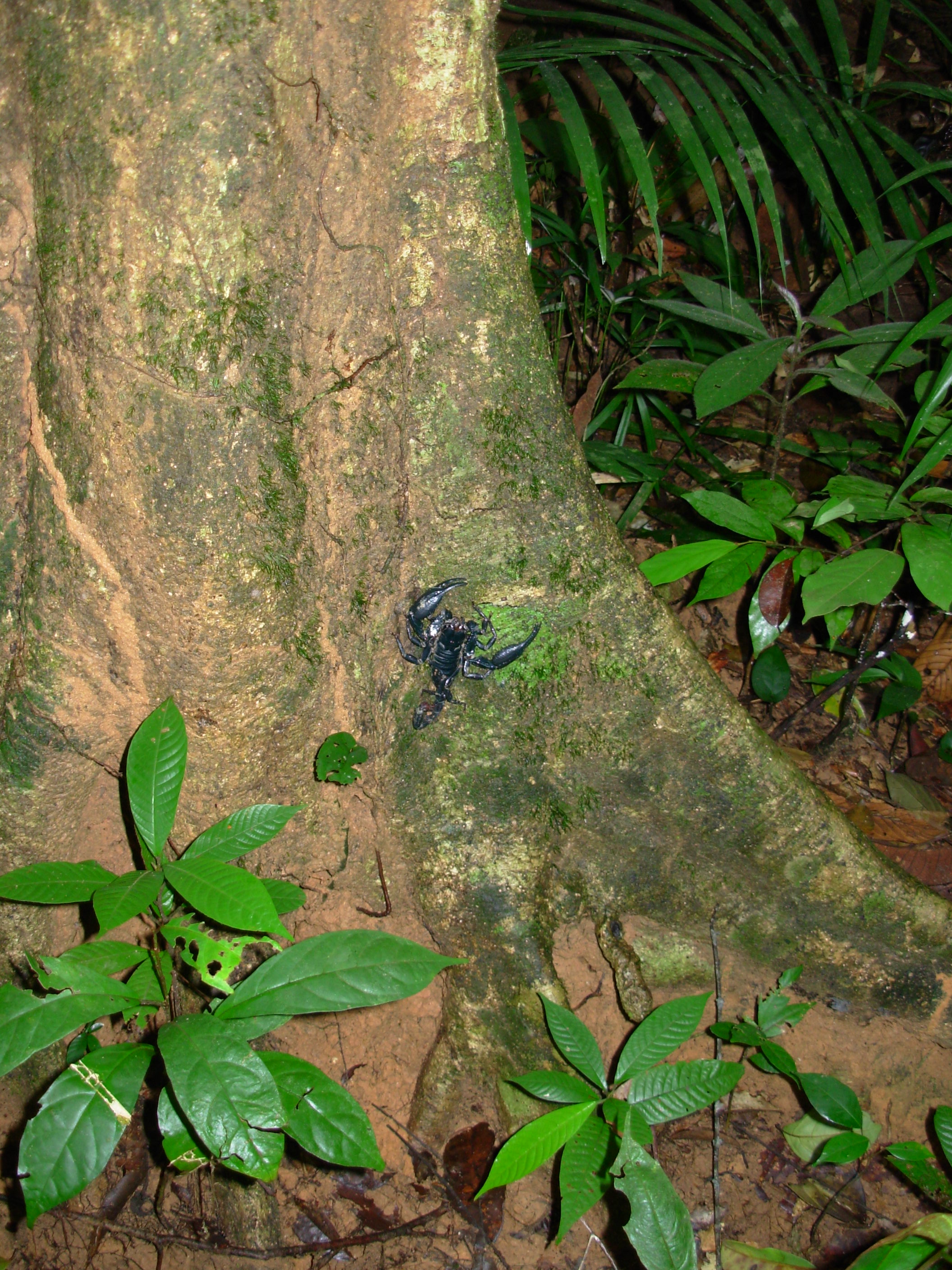 After talking with the other guides, Addy seemed convinced tigers were out last night. I doubted it, but the idea certainly added some excitement to our upcoming hike through the woods. Since it rained during the night, mud would be more of a problem, plus leeches would be out, and maybe tigers, too.
The day was supposed to be shorter but more difficult than the day before, and the difficulty part was certainly true. The hike was a challenge. The mud was a mess, twigs scratching my legs burned my rosy legs, and there was always something to crawl over or squeeze under. We crossed rivers on fallen logs, and trailblazed our way through thick underbrush. Biting pain on my ankles or spots of blood on my shorts alerted me to that fact that leeches had decided to join me on the hike. It was so much fun. But, with two small children, the day was not short. The little girl, aged 5, had a lot of problems, so her dad carried her as much as he could. We took a lot longer—maybe twice as long—as we could have without the kids. I didn't mind, though; I liked being in the woods.